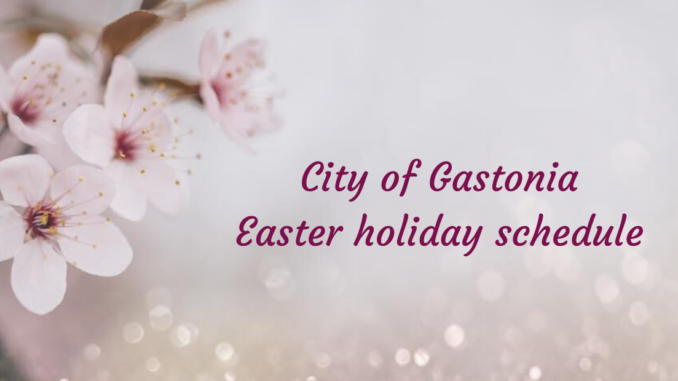 City of Gastonia administrative offices will be closed Friday, April 10. Although nearly all City buildings are already closed to the public because of the COVID-19 pandemic,  Good Friday is a holiday for many City employees.
City transit buses will use a Saturday schedule on Friday, April 10. Riding a City bus is free through April 29 because of the coronavirus outbreak.
There will be no City garbage or recycling pickup on April 10. Friday and Monday customers will have their carts emptied on Monday, April 13. The City will not collect yard waste or excess household trash on Friday or Monday of the Easter weekend. Residents can use the personalized WasteWise app for notifications about holiday-related changes to Solid Waste collection.
City parks are open for passive recreation such as walking, jogging and fishing. Park visitors are reminded to follow social distancing guidelines. Park playgrounds, restrooms, water fountains, the Lineberger miniature train, the Rankin Lake boathouse, recreation centers, basketball courts, volleyball courts, and the Skeet and Trap Range are closed until further notice because of the coronavirus outbreak.
Although The Schiele Museum of Natural History is currently closed, program updates are available on the museum's website. And Schiele employees are providing fun and interactive opportunities for the public on Facebook, Instagram and Twitter sites.
For ongoing updates about changes to City services related to COVID-19 and for resources available to individuals and businesses, please visit the City of Gastonia's Facebook, Twitter and website.