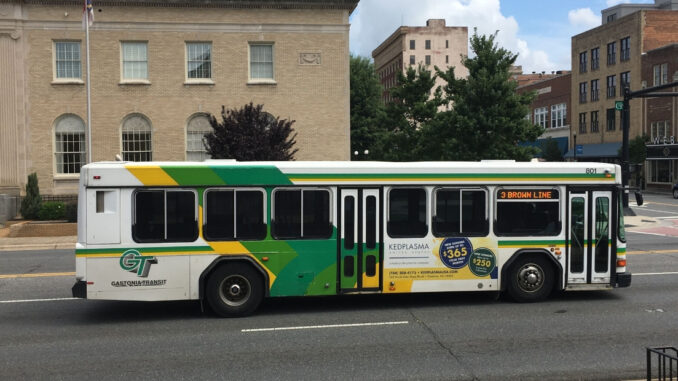 This page was updated May 22, 2020.
The City of Gastonia has again extended its free fares, allowing passengers to ride City Transit buses at no charge through June 30. "Our goal is to maintain safe and accessible service for passengers who need it most during the COVID-19 outbreak," said Community Services Director Vincent Wong. "The City acknowledges the significant economic and social issues resulting from the health crisis. We know some residents depend on City Transit to get to essential jobs or to medical appointments."
Passengers are asked to use City Transit only for essential trips.
What City Transit is doing to protect employees and the public during the coronavirus outbreak:
From March 25, 2020, through June 30, 2020, Gastonia Transit is fare free.
Passengers are to enter and exit the bus through the rear door to maintain social distance between passengers and the driver.
Every vehicle in the fleet is cleaned daily. Normal cleaning procedures include disinfecting the driver area and all hard surfaces that passengers come in contact with, including seats, handrails, poles and floors.
Contact surfaces such as poles, seat backs, fareboxes and window ledges are cleaned multiple times a day.
The Gastonia Transit Center is cleaned on an ongoing, repetitive basis.
Posters and other educational materials about health and safety are available on buses and at the Transit Center.
Passengers are urged to follow Centers for Disease Control and North Carolina Department of Health and Human Services recommendations for reducing the spread of the coronavirus.
Fares for the 85X express bus between Gastonia and Charlotte are set by the Charlotte Area Transit System (CATS).
The City is making repairs to the Bradley Transit Station on North Oakland Street during the weeks when riders do not need to purchase bus tickets. Wong said the City of Gastonia will continue to monitor what other transit agencies are doing and monitor Gastonia's ridership numbers to determine if additional modifications are necessary for service or operating procedures.