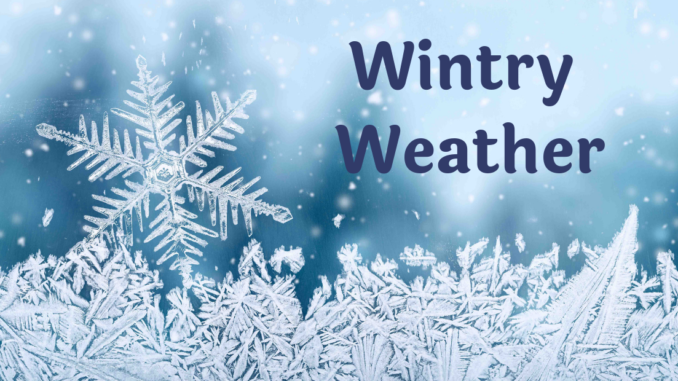 Because of forecasted sub-freezing temperatures tonight, which are expected to refreeze slush and ice on secondary roads, City officials are delaying the opening of administrative offices, postponing Monday's solid waste collection and canceling transit services.
City offices will open on a three-hour delay tomorrow. Monday's trash and recycling pick-up will be rescheduled. Weather conditions will continue to be monitored to determine further collection delays that could continue for several days. Residents will be notified of updated collection schedules through the WasteWise app, the City of Gastonia Government Facebook page and the City website. The City will also announce any additional changes in the transit schedule and any Parks and Recreation facilities delays or closings through the same communications channels. Officials announced on Friday that the FUSE public meeting to update citizens on the project, originally scheduled for Monday evening, is rescheduled to early January.
So far there have been fewer than five power outages reported within the City limits served by the City of Gastonia's Electric division. Police report they've responded to 15 stranded vehicle calls and 13 fender benders with no serious injuries. Residents are asked to stay off the roads, if possible. People who must drive should reduce their speed and increase the distance between vehicles.
Public Works crews have responded to and cleared two downed trees from roadways, one at Kendrick Road and Furman Circle and another at 200 Garrison Blvd.
Helpful phone numbers, websites and apps:
For a life-threatening emergency involving police, fire or medical, call 911.
To report utility outages for City of Gastonia Electric/Two Rivers Utilities customers: use the COG-TRU Outages app or web portal or call 704-866-6823.
To report fallen trees in the road, call 704-866-6843.
Residents can sign up to receive Blackboard Connect notifications from the City via phone call, email or text. These notifications can include road closings; interruptions in City services; canceled or postponed meetings, events and recreation activities; or other situations that could affect the safety, property or welfare of our residents.