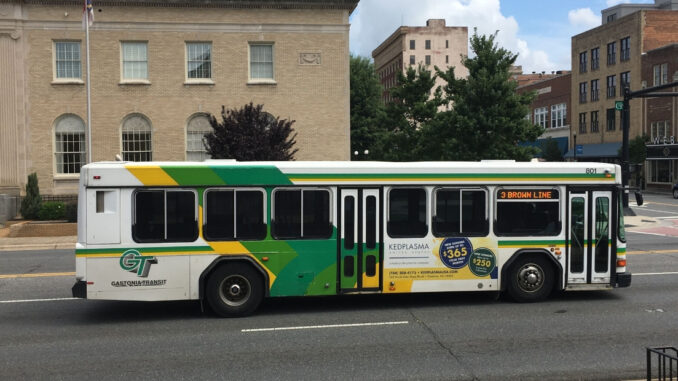 This page was updated June 22, 2021.
The City of Gastonia has again extended its free fares, allowing passengers to ride City Transit buses at no charge through Sept. 6, 2021. "Throughout the pandemic, we have continued to monitor how transit agencies across the state and nation are responding to COVID-19. Extending free fares is a way to continue to help our residents during this time," said Vincent Wong, director of Gastonia's Community Services Department.
What Gastonia Transit passengers need to know:
From March 25, 2020, through Sept. 6, 2021, Gastonia Transit is fare free.
All passengers are to wear face coverings on public transit and in the Bradley Transit Center, as required by the Federal Transit Administration and federal Transportation Security Administration.
Passengers are to enter and exit the bus through the rear door to maintain social distance between passengers and the driver.
ADA passengers will still use the front door.
A plexiglass barrier separates the driver's area from the rest of the bus.
Federal CARES Act funding is providing Gastonia Transit with money to cover operational expenses as part of the City's response to COVID-19.
Fares and schedules for the 85X express bus between Gastonia and Charlotte are set by the Charlotte Area Transit System (CATS). CATS resumed charging fares in June 2020.