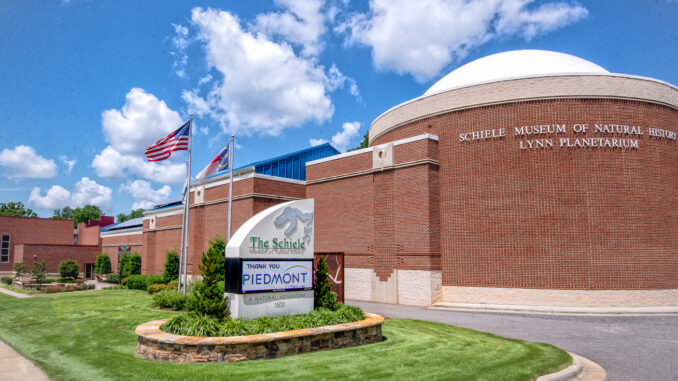 With Governor Cooper's announcement that museums in North Carolina can open at 100% capacity, The Schiele Museum in Gastonia will be open at full capacity starting Saturday, March 27.
"We are excited by this news," said an exuberant Dr. Ann Tippitt, executive director. "The lifting of capacity restrictions relieves the burden of turning people away if they did not purchase tickets in advance."
One of the adjustments made when the museum reopened last year was to provide tickets online for people to purchase in advance. Museum experiences are available a la carte so that visitors can build their own adventure for when they visit. From Museum Exhibit tickets, Farm access, Planetarium tickets, to special programs, the visitor can choose what they'd like to do while they're here. With the capacity restriction lifted, guests now have all day to experience all that the museum offers.
The museum still recommends purchasing tickets in advance via their website, especially for programs that still have capacity restrictions. With this new executive order starting at 5  p.m. on March 26, the museum's James H. Lynn Planetarium can increase its capacity to 50%. Additional seats have already been released so that the Friday Night Lights programs in the planetarium this Friday reflect that increase.
Special opportunities like the Winter Wonderland sock skating exhibit will also be available with limited capacity through the weekend before it closes on Sunday, March 28. Since the exhibits opening earlier this year, hundreds of kids have slid across the "ice" to escape the cold weather while releasing a lot of energy. Limited tickets are available in 30-minute increments this weekend for just $3 for children. Parents are encouraged to "skate" with children 3 and under.
"It is such a pleasure to watch the joy on children's faces as they take to the ice," said Dr. Tippitt. "Sometimes timid at first, they soon are zooming around and have a great time sliding and twirling across the floor."
The Schiele Museum will continue to align with the guidelines in place per Governor Cooper's Executive Orders such as social distancing and the facemask mandate covering the nose and mouth, along with rigorous cleaning.
The museum is open to visitors:
Saturdays from 10 a.m. to 5 p.m.
Sundays from 1 to 5 p.m.
Monday through Friday from 10 a.m. to 4 p.m..
For more information, please visit schielemuseum.org or follow The Schiele Museum on social media.