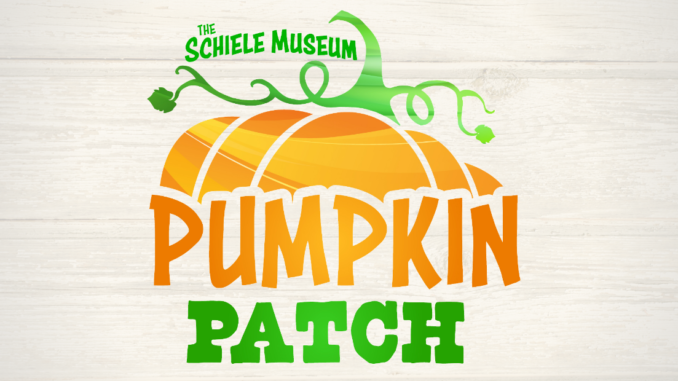 Make way for fall's favorite fruit! The Schiele Museum's Pumpkin Patch returns September 24 with exciting seasonal events and programs for the entire family. Field trips for students, a festival and even an indoor pumpkin patch roll their way into this season.
"We've enjoyed sharing the natural story of fall's most iconic symbol," said Tony Pasour, the museum's head of interpretation. "While we don't have the property to grow our own pumpkins, we're proud to partner with regional partners here in our state to share the bounty and education of fall's harvest with museum visitors," Pasour said.
The Schiele's Pumpkin Patch is open to field trips and group visits from September 24 to October 30. Visitors are welcome to pick their own pumpkins and experience programs on event days, such as the Pumpkin Patch Party and Autumn Festival.
"Museum guests can venture out to The Farm during our Pumpkin Patch Party to explore agriculture, seasonal gardens, interactive displays, and live animals," Pasour said. "Snap some family photos in our giant model pumpkin with our friendly goats and enjoy pumpkin programs throughout the day."
The Schiele's field trip and outreach pumpkin programs suit all students' needs and curriculum objectives. These programs give students chances to choose their own pumpkins. "Winter squash have a unique, natural and cultural history that's explored in depth through our Pumpkin Patch programs," said Farm Program Specialist Nathan Chapman. "Students and teachers will love the feeling choosing their own pumpkins and learning about the traditions behind them." Educators can register for programs at SchieleMuseum.org.
The Pumpkin Patch Party on September 24 from 10 a.m. to 4 p.m. debuts The Schiele's first indoor pumpkin patch. Rex's Pumpkin Patch lets visitors select their very own pumpkin underneath the T. rex in the museum lobby. Each pumpkin priced at $5 or higher purchased includes a ticket to The Farm.
"These North Carolina grown pumpkins are perfect for making Jack-O-Lanterns," Pasour said. "They will be around our Tyrannosaurus Rex to create an indoor pumpkin display. We even have a dino-sized pumpkin where visitors can estimate its weight for a chance to win it for their own personal display."
The winner of the dino-sized pumpkin will be announced at the Autumn Festival held on October 1 from 10 a.m. to 4 p.m. Visitors of the Autumn Festival can experience the Pumpkin Patch program, crafts, fall treats and food, gemstone mining, animal meet-n-greets, and much more.
"It'll be full of fun, family friendly activities," said Vanesa Guiterrez Chavez, Outdoor Program Specialist. "The special surprise at this event is the grand opening of the Natural Amazement Maze, sponsored by the Virgil P. Warren Foundation."
Adults can opt for The Schiele's Wine and Beer Tastings on October 4 from 6 to 8 p.m. in the Pumpkin Patch. This event provides a relaxing night filled with music, drinks and friends.
"We are so excited to be teaming up with Moss Realty to make this event possible," Elysabeth Utick, Director of Development, said. "These tastings are great for a girls' night out, date night or a chance to make new friends."
For more information about The Schiele's Pumpkin Patch events, please visit SchieleMuseum.org or follow The Schiele Museum on social media.