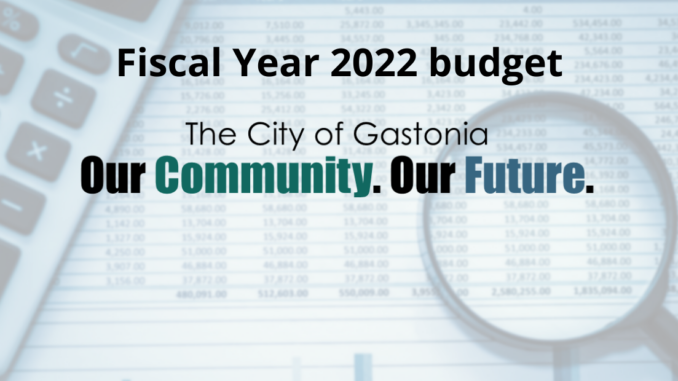 The Gastonia City Council unanimously approved the City's FY 2022 total budget of $267,357,337 at its June 1 meeting. The City's fiscal year begins July 1, 2021.
"We are very proud to continue providing a high level of essential services to our residents and to continue to invest in our city and our employees, especially coming out of a pandemic," said Mayor Walker E. Reid. "We realize that there are many municipalities across our state and the country that have not fared as well, and I am proud that our City Council has made strategic investments in infrastructure while continuing to be great stewards of the public purse."
Most notable this year is that there are no property tax changes or electric rate increases for Gastonia residents in the approved budget.
No property tax changes.
No increases in electric, solid waste, or stormwater rates.
Modest increases in water and wastewater rates and updates to the city's system development fee structure.
Over $1.9 million for transportation projects and street improvements.
Over $3.3 million for equipment replacement including a fire hazmat apparatus, over 15 police vehicles, an additional automated leaf vacuum truck, and necessary electric and utility vehicles.
The City Council also approved compensation adjustments based on a third-party compensation study. Other benefits will remain the same for full-time and part-time employees. Almost 73% of the General Fund are costs related to personnel expenses, such as salaries and benefits.
Salary increases ranging from 2.5% to 4.0%, based on years of service and position.
Implementation of a third-party salary survey that calls for market adjustments.
A Christmas bonus of $350.
A 5% contribution from the City for eligible employees enrolled in the 401(k) program.
A $750 employer contribution to the Health Savings Accounts of eligible employees.
City officials will continue to follow three guiding principles for its budgetary guidelines: financial responsibility, customer service, and economic development. "As in the past, we will also continue to reduce operating expenses where feasible," said City Manager Michael Peoples. "Our city is growing and we want to make sure we are able to provide long-term sustainability for years to come."