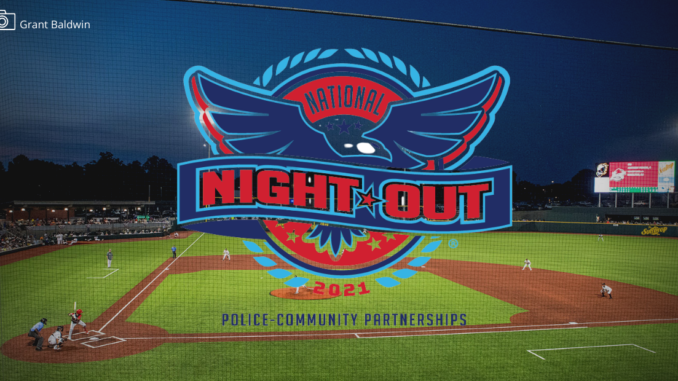 The Gastonia Police Department and Gastonia Honey Hunters Baseball will team up to bring National Night Out event to the Aug. 13 home game. "This is another way for our community to get to know our officers and for our officers to reach out to those in the community to show them what we do," said Chief Travis Brittain. "We are thankful for partnerships in the community like this one with the Honey Hunters and we look forward to working with the team in the future."
Through a grant from Academy Sports to the Gastonia Police Foundation, officers identified local nonprofit organizations, businesses, community watch groups and residents to donate tickets to attend the Aug. 13 game. A representative from Blue Cross Blue Shield of North Carolina will give a limited number of backpacks to kids at the main entrance to the ballpark. Fans will have the opportunity to meet GPD police officers, enjoy fun on-field promotions, and learn more about the Gastonia Police Foundation. The game featuring the Honey Hunters against the York (Pennsylvania) Revolution begins at 6:50 p.m.
"We are proud to partner with the Gastonia Police Department to bring this event to the community and our fans," said Brandon Bellamy, owner of the Gastonia Honey Hunters baseball team.  "We value our partnership with local law enforcement to help build stronger communities."
National Night Out is an annual community-building campaign that promotes partnerships between police and the community, as well as encourages neighborhood camaraderie to make our neighborhoods safer, more caring places to live. The campaign takes place annually on the first Tuesday of August. The City of Gastonia encourages its citizens to better know the police, their neighbors and encourage a sense of community pride where they live.