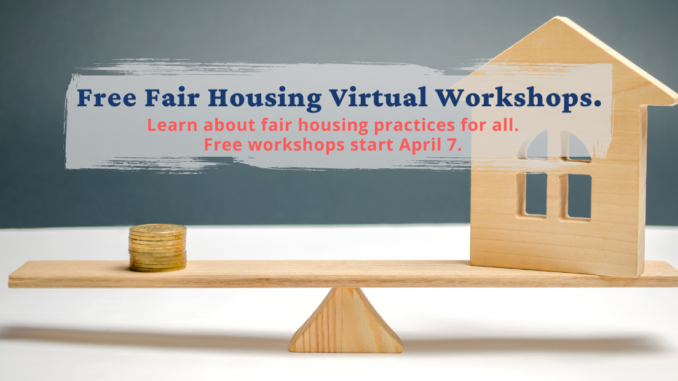 The City of Gastonia, in partnership with Legal Aid of North Carolina, will present a series of free virtual workshops during the month of April about housing discrimination, tenant's rights, and landlord responsibilities for providing fair access and opportunities for housing for all.
"With increased focus and demand for affordable housing, limited housing stock and other compounding factors such as COVID-19, it is important now more so than ever for all families and individuals to have knowledge of fair housing laws," said Danette Dye, Housing and Neighborhoods Director for the City of Gastonia. "Fair housing education allows for better informed decision-making and greater housing choice for all individuals and families."
Fair housing laws prohibit discrimination based on race, color, national origin, religion, sex, sexual orientation, disability, or family status (living with minor children). These laws are designed to protect your right to rent an apartment, buy a home, obtain a mortgage, or purchased homeowner's insurance free from discrimination.
Virtual Workshop Schedule:
All workshops are free and open to the public. Registration is required for each workshop. Register and learn more.
Know Your Rights: Fair Housing Info for Tenants
Thursday April 7, 2022 | 6 – 8 p.m.
Know the Law! Fair Housing Info for Property Managers and Landlords
Thursday, April 14, 2022 | 1 – 3 p.m.
Know your Rights: Fair Housing Info for Tenants (En español)
Thursday April 14, 2022 | 5 – 7 p.m.
Fair Housing Training for professionals working in housing related fields (lenders, realtors, etc.,)
Thursday, April 21,2022 | 1 – 3 p.m.
Fair Housing Panel Discussion + Viewing of "America Divided: A House Divided"
Thursday, April 28, 2022 | 6 – 8 p.m.
All workshops will be facilitated by Legal Aid attorneys and coordinated by Jack Holtzman, co-director of Legal Aid of North Carolina' s air Housing Project. Holtzman has practiced civil rights law in North Carolina since 1986 and has worked with affordable housing developers, property managers, local government officials and community advocates to further fair housing across the state.