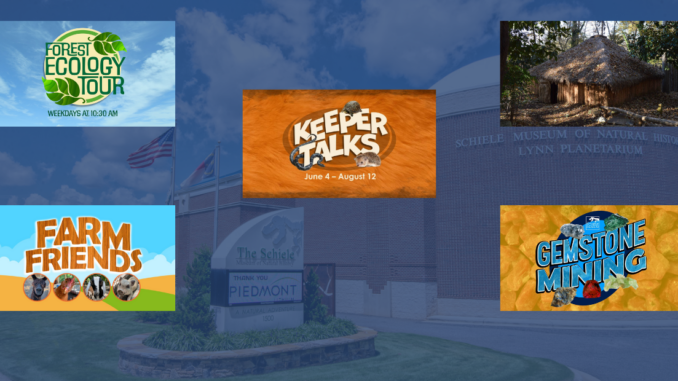 School is out and the fun begins with all new and returning programs at The Schiele Museum! From June 4 to August 12, the museum will host daily programs filled with adventures with experts.
The Schiele offers a special guided walk to explore different species of plants on the Nature Trail. The Forest Ecology Tour begins at 10:30 a.m. during weekdays and is included with The Farm admission.
"During our Forest Ecology Tour, visitors will see a variety of animals and plants, many of which have important uses to us, as well as wildlife," said Vanesa Chavez, outdoor program specialist. "Prepare for a fun hike through our urban forest and conversation about the agriculture used by the Catawba Indians."
After a Nature Trail hike, head over to The Farm for special weekend animal feeding programs Farm Friends. Tickets are $5 per person, including The Farm admission. "Our Farm Friends program lets visitors get up close and personal with our agriculture critters," said Lillie Reiter, live animal manager. "You can learn the importance of their roles here on The Farm."
If it's too hot for you outside, The Schiele also offers an indoor animal feeding program with their ambassadors. Keeper Talk programs begin at 1:15 p.m. during weekdays and are included with exhibit admission. "Visitors can join us for an informal meet 'n greet with our Animal Ambassadors and their caregivers," Reiter said. "Guests can ask questions, meet an animal, and watch an animal feeding."
Kids, young or old, enjoy The Schiele's gemstone mining experience. Back for another great season, visitors can sluice for their own mineral treasures to take home. Tickets are $4 per person. "Participants of all ages learn about North Carolina's most common rocks, gems, and minerals using simple identification methods," MC Cox, outreach and volunteer manager, said. "You can discover how many we use every day."
Gemstone mining isn't the only returning program on The Schiele's summer agenda. The Catawba Village is open daily for guests to discover. "We want visitors to come in to our Bark House and question what kind of methods this tribe used to cook their breakfast," Hannah Salemi, museum program specialist, said. "The study of the Catawba connects us to our region's history, to the beginning of human influence and partnership, and it is a really beautiful experience."
For more information on The Schiele's summer programs including how to purchase tickets, please visit The Schiele Museum's website or follow The Schiele Museum on social media. Military families, active and retired, receive free admission to The Schiele Museum through Labor Day 2022.