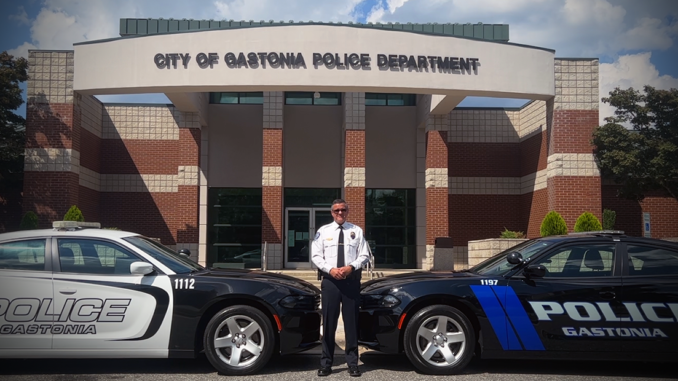 Gastonia Police Chief Travis Brittain has announced that he will retire in January 2023 after 28 years as a Gastonia Police Officer and over two years as Chief of Police.
Chief Brittain began his law enforcement career at the age of 15 when he joined the Gastonia Police Department's Explorer Program. He was hired as a full-time Gastonia Police officer in 1994. In 2004, Brittain was promoted to Sergeant and then promoted to Captain in 2012. In 2014, Brittain was named Assistant Police Chief under Chief Robert Helton.
"Chief Brittain's contributions will have a lasting impact in our community," said Mayor Walker Reid. "His commitment to our City, his profession, and his staff is highly commendable. It has been a pleasure working with him."
"It has been an honor to serve the residents of Gastonia for the past 28 years," Brittain said. "I have been fortunate throughout my career to work alongside some of the finest women and men at the Gastonia Police Department and I want to thank them for their dedication and commitment that they bring to the job every day. I want to especially thank the Mayor, Council, and Management for their confidence and support."
Chief Brittain was born and raised in Gastonia and graduated from Ashbrook High School. He earned a Bachelor of Science degree in Criminal Justice from Gardner Webb University and a master's degree in Justice Administration from Methodist University. He is a 2013 graduate of the FBI National Academy's 254th Session and received the Advanced Law Enforcement Certificate from the State of North Carolina.
"Chief Brittain has been an integral part in delivering essential public service to our community by coordinating many efforts to advance our police structure and programs," said City Manager Michael Peoples. "We wish him a prosperous and healthy future."
Chief Brittain has served on the boards of several community organizations, including the Executive Board of the Gaston Clergy & Citizens Coalition (GC3) and Habitat for Humanity, where he co-planned initiatives to build homes in areas impacted by crime. He is also a member of the Rotary Club of East Gastonia.