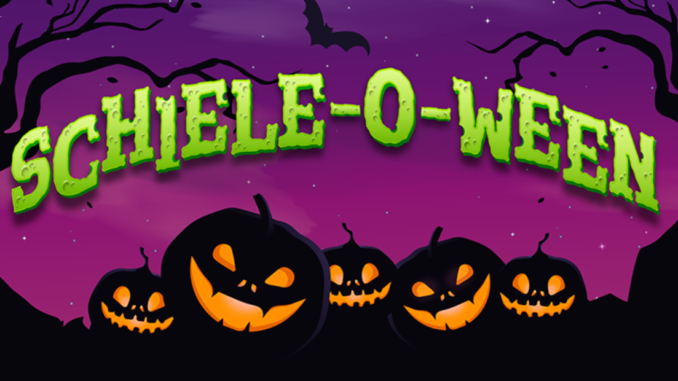 Fall days may feel shorter, but they are packed full of fun at The Schiele Museum in Gastonia. Whether visitors are looking for outdoor excitement at our newest exhibit, seasonal celebrations, or a day to explore Stone Age history, The Schiele has something for everyone in the weeks to come.
Don't miss a unique Halloween party at Schiele-O-Ween on Saturday, Oct. 29 from 10 a.m. until 2 p.m. Visitors can collect candy, create spooky crafts, play games, meet carnivorous plants, and enter a pumpkin-carving contest. We'll also have a SPOOKtacular gender reveal party to introduce The Farm's new baby lamb. "We are pleased to introduce a new little BOOy or GHOUL to the public during our Schiele-O-Ween event," said Lillie Reiter, Live Animal Manager. "Families can come in costume to play and celebrate while they also learn about the world around them."
It has never been so fun to be lost! Join us for the grand opening of Natural aMAZEment, a new exhibit of circular mazes on the Nature Trail, with a ribbon-cutting ceremony set for Saturday, Oct. 29 at 10 a.m. "Thanks to the generosity of Melissa and John Harris and the Virgil P. Warren Foundation, puzzle lovers of all ages can explore all of the twists and turns of a maze in a natural outdoor environment. It's a great way to get the whole family outside," said Elysabeth Utick, director of Development.
Learn how the First Peoples of North and South Carolina survived and thrived in a wild land on Saturday, Nov. 5 from 10 a.m. until 4 p.m. during Stone Age Heritage. Visitors can explore the Catawba Indian Village, enjoy interactive displays, and attend mini-workshops. "If you are interested in the customs, culture, and lifeways of Stone Age peoples in our region, join us for hands-on learning and the chance to explore artifacts, tools, and rituals during this event," said Hannah Salemi, Catawba Village program specialist. "The Village will be open and we will have educators and exhibitors on-site to answer questions and share their knowledge."
Thanks to the support of Dignity Memorial, veterans and active military members can bring their families to The Schiele on Veterans Day, Friday, Nov. 11, and enjoy free admission. "We want to thank Dignity Memorial for honoring our veterans and military. We are looking forward to sharing a special day with all of those who have served," said Utick.
The Schiele did not forget about Thanksgiving and the important bird at its center! Little learners and their families can discover the natural history of the Eastern Wild Turkey at Turkey Trek on Saturday, Nov. 19 from 12:30 until 2:30 p.m., with a scavenger hunt, crafts, and a meet-and-greet with our very own Geraldo the turkey. Visitors can come for the Trek and stay all afternoon to explore the museum and The Farm.
"Fall is a special time at the museum. With leaves changing color on the Nature Trail and pumpkins on display under the T-Rex, The Schiele is a must-see at this time of year," said Tiffani Stewart, marketing coordinator. "If you haven't stopped by for a few months or even a few years, plan a visit soon. You won't be disappointed."
Learn more about The Schiele's events at their website.