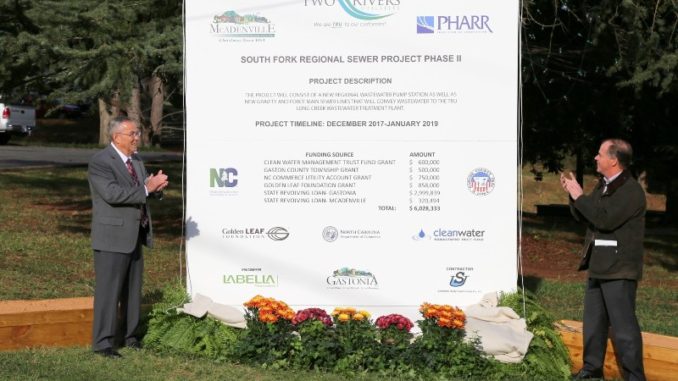 With ceremonial shovels in hand, officials have broken ground on a $6 million sewer project in McAdenville. The South Fork Phase II Regional Sewer project is a collaborative effort involving the City of Gastonia, Gaston County, Golden LEAF Foundation, Pharr Yarns, State of North Carolina, Two Rivers Utilities and Town of McAdenville.
The Nov. 15 groundbreaking ceremony celebrated the start of a multi-stage effort to improve wastewater treatment for the Town of McAdenville and Pharr Yarns in McAdenville. When the public-private project is finished in 12 to 18 months, wastewater from the town and the textile facility will be treated by Two Rivers Utilities in Gastonia.
Currently, Pharr Yarns in McAdenville has a 50-year-old, privately operated wastewater treatment plant. The Town of McAdenville has a 50-year-old municipal wastewater treatment plant that serves the community's 680 residents.
The project will replace the two aging sewage treatment plants. A new pump station is being constructed along with more than 2 miles of new sewer pipes. Wastewater from McAdenville will be pumped through the new pipes to Gastonia, where it will be treated at TRU's Long Creek Wastewater Treatment Plant, the region's most advanced treatment plant. The two outdated wastewater treatment plants in McAdenville will be demolished in 2019.
Economic impact
Grant funding covers 45 percent of the total cost. Grants come from county, state and economic opportunity sources and do not have to be repaid. The remaining $3.3 million is funded by low-interest loans from the State of North Carolina.
Planning for the project began more than a decade ago. It is expected to benefit both the economy and the environment. Both Pharr Yarns, one of the area's largest employers, and McAdenville will get increased wastewater treatment capacity. That can boost economic development opportunities for both the manufacturer and the town. The project will also improve water quality in the South Fork River.