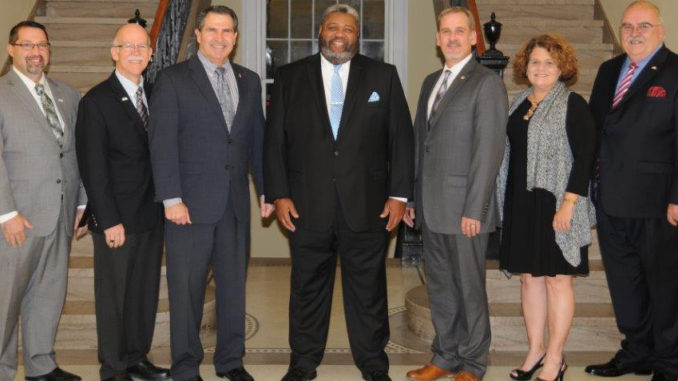 The City of Gastonia held an induction ceremony last evening for the newly elected major and three members of the City Council. Senior Resident Superior Court Judge Jesse B. Caldwell III administered the oath of office to the City officials who won seats in last month's election.
Mayor Walker Reid was elected Nov. 7. He previously served on the Gastonia City Council for 16 years and was mayor pro tem for several terms.
Council member Jennifer Stepp, a former Gaston County public school teacher, took the oath of office to represent Ward 5. She replaces Porter McAteer who did not seek re-election. Two City Council incumbents who were re-elected last month also were sworn in last night: Robert Kellogg in Ward 1 and Dave Kirlin in Ward 2.
Municipal elections in Gastonia are nonpartisan and City Council elections are staggered. The mayor serves a two-year term while council members serve four-year terms.
Before last night's ceremony, outgoing Mayor John Bridgeman presided over a brief City Council meeting at Gastonia City Hall. The inauguration ceremony was held soon after at the Gaston County Courthouse.
The first regular meeting with the new mayor and city council will be held at 6 p.m. Tuesday, Dec. 5 at Gastonia City Hall.