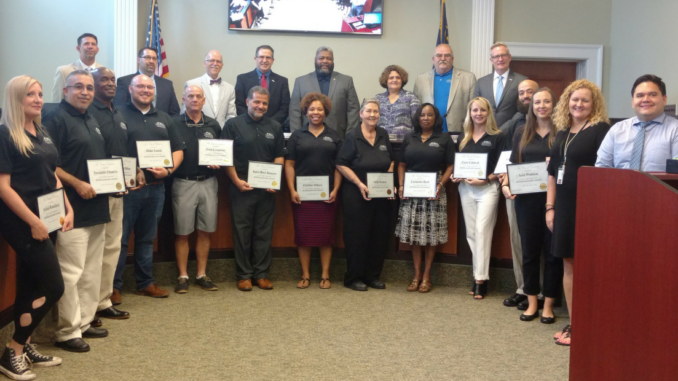 If you think local government is uninteresting, you'll get a different perspective from any of the 14 people who recently graduated from the Gastonia Municipal Citizens Academy. They were recently recognized by the City Council after completing the five-month program.
Since January, the participants spent two Thursdays each month finding out how Gastonia's city government works – from city streets to the Schiele Museum, water pipes to walking trails, city buses to the city budget. And they learned how citizens can be more effective when interacting with municipal government.
Amy Pearson is amazed how much there is to learn about city government. "I have lived in Gastonia my whole life, and there were so many things that I didn't know about and just assumed happened," Pearson says. She says she now thanks firefighters and police officers, is grateful when power doesn't go out in a storm, and makes sure her trash and recycle carts are placed properly on the street.
Cassandra Byrd is another life-long Gastonia resident who graduated from the Academy on June 5. Byrd says she enjoyed learning information about each city department, especially the field trips to parks and the police and fire departments. The 10 sessions included presentations by city employees, discussions, tours of city facilities and a ride-along with a Gastonia police officer.
Carly Caldwell enrolled in the class to learn more about the inner workings of municipal government, even though she is employed by the city's Keep Gastonia Beautiful program. Caldwell says the Academy gave her a new perspective, especially about "all of the moving parts within the city." She said she came away impressed by the "dedication, commitment and passion" fellow city employees have for Gastonia and with a "renewed spirit of becoming more involved."
Byrd says she was surprised by the size of the city budget, $232 million, and the number of city programs to help people with everyday issues such as housing and budgeting. Pearson says she was surprised by the tenure of employees in every department, many with more than 20 years of experience. She says the employees she met from every department "showed passion and dedication" and made her even more convinced that Gastonia is "run by great people and is a great place to work and live."
Because of the Citizens Academy, Pearson says she has taken her kids to city parks she had not visited before, is more appreciative of the history of downtown buildings and is more aware of the importance of things she took for granted, like stop lights that work. Byrd says she intends to use the information she learned to "help see the city move forward in a positive way."
Pearson says she enrolled in the Academy after getting involved in a zoning issue in 2017, hoping to learn how to make a positive difference in her neighborhood and the city. She thinks more Gastonia residents should sign up for the Academy, saying "if more people were equipped with this knowledge and understanding, it would make things run even smoother and make the city even better!" Byrd agrees, saying the Academy gives residents an "in-depth look at city government and the way things are accomplished."
Applications for the next Municipal Citizens Academy will be available this August with classes to begin in January 2019. The Academy is free of charge.
Pictured:  2018 graduates of Gastonia Municipal Citizens Academy
Top row, left to right: City Manager Michael Peoples, City Council Members Robert Kellogg, Dave Kirlin, Jim Gallagher, Mayor Walker Reid, City Council Members Jennifer Stepp, David Humphries, City Attorney Ash Smith.
Front row, left to right: Adina Rutinberg, Fernando Onativia, Charles Odom, Blake Lundy, Fred Longeway, Rafat (Ray) Hamam, Charisse Dillard, Beth Deaton, Cassandra Byrd, Carly Caldwell, Jose Troche, Amy Pearson