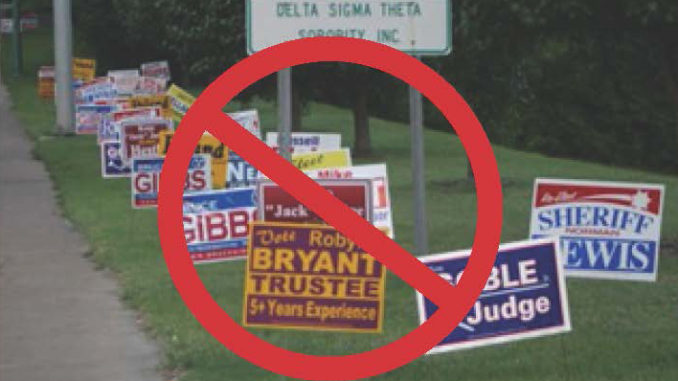 Businesses, community organizations, political candidates and others who may have temporary signs in the rights-of-way throughout the City are being notified through news and social media that City forces will be removing those prohibited signs beginning Monday, Oct. 15.
"We're providing this notice so that anyone or any group who has signs in the City's rights-of-way can get them removed before the sweep," said City Manager Michael Peoples. "Remaining signs will be removed and disposed of.
"The City enacted these sign restrictions to ensure public safety – many of them create sight obstructions on the roads and at intersections – and to help keep our community clean and litter free."
The City updated its sign ordinance in January 2017 which included prohibiting all temporary signage in the public right-of-way. Temporary signage is defined as, "a sign that is not affixed to poles, posts, stakes or other supporting structures that are permanently installed or anchored into the ground through the use of concrete foundations or similar anchoring techniques or permanently secured to a building." The right-of-way is generally defined as areas between the road and the sidewalk or the road and the back side of utility poles or permanent street signs, whichever is furthest from the road.
The updated ordinance specifically prohibits three types of temporary signage: small placard-type signs, usually referred to as yard signs, banners, and large placard-type signs typically associated with the advertisement of real estate or development activity. Temporary signs are also not allowed to be affixed in any way – stapled, nailed, etc. – to utility poles or other existing structures in the public right-of-way.
Temporary signs are allowed on private property with some restrictions and some permit requirements. Specific questions about the sign ordinance can be answered by reviewing the ordinance on the City's website at www.cityofgastonia.com/zoning/temporary-sign-regulation.html or directing inquiries to the City's Planning Department at 704-854-6652.