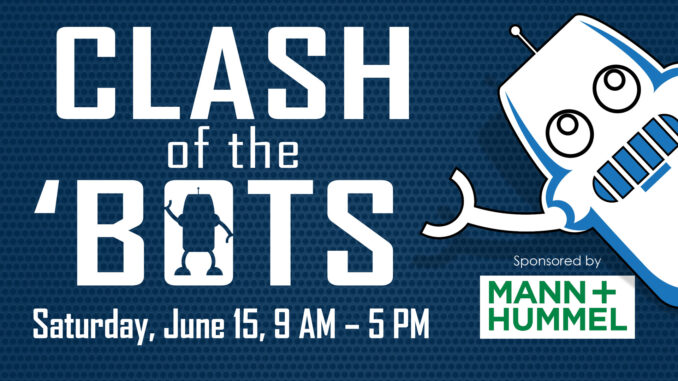 Robots will invade The Schiele Museum at the ninth annual Clash of the 'Bots event on Saturday, June 15. From 9 a.m. – 5 p.m., visitors will have the opportunity to interact with teams of robot builders and watch them compete for supremacy as they play hockey and battle in the arena. While some come for the machine carnage, Clash of the 'Bots is more than just battling robots; it brings together engineering and technology in ways that visitors can interact with throughout the event. Each year The Schiele tinkers with the event, so that visitors can attend annually and see something new.
This year, visitors will be able to investigate the nuts and bolts of how things work by dissecting various electronic devices and even see a 3D printer in action. Experts from organizations across the region will share their knowledge with visitors, and how to get involved in robotics for a career or for fun.
MANN+HUMMEL joins the museum again this year as the presenting sponsor and will bring back Baxter Bot! This friendly bot will greet visitors, and it might even have a surprise up its mechanical sleeve!
Dr. Michael Heim, vice president, research & development at MANN + HUMMEL says, "Our collaboration with the Schiele Museum is an excellent way for MANN+HUMMEL to encourage young people in our community to engage with science and technology. Nowadays, robots are essential for manufacturing and are found in all our production locations around the globe. We are extremely excited to be part of this entertaining event, as it is a great opportunity to stimulate interest in this field at a young age."
Clash of the 'Bots brings the community together for a day of learning and fun; mark your calendars for June 15 – a day of gadgets, technology and robots! Tickets are $3 for Schiele Members and $3 in addition to general museum admission for non-members. For more information, please visit schielemuseum.org or follow The Schiele Museum on social media.