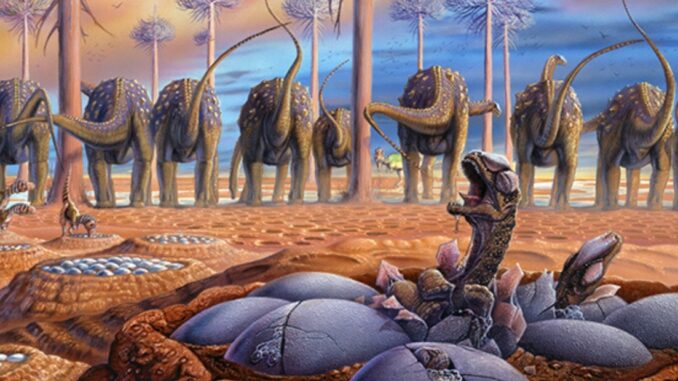 Take an exciting look at the life of dinosaurs through their eggs, nests and embryos in Tiny Titans: Dinosaur Eggs and Babies, the newest exhibit at The Schiele Museum in Gastonia. Tiny Titans presents new discoveries about dinosaurs while highlighting the fascinating science behind them. This hands-on exhibit offers an array of authentic and replica dinosaur eggs and nests collected from across the globe – including those of each of the major plant and meat-eating dinosaur groups.
"Dinosaur fossils were first recognized in the 19th century, but the first dinosaur egg fossils were discovered less than 100 years ago," stated Tony Pasour, head of interpretation at The Schiele. "Dinosaur egg fossils are extraordinary windows into the past. They provide information on how young dinosaurs were cared for and how they grew into adults. The Tiny Titans exhibit is an excellent overview of the science of dinosaur eggs and The Schiele is thrilled to share this story with museum visitors."
A captivating experience for all ages, Tiny Titans encourages visitors to interact with dinosaur bones and nests, dig for eggs, and learn through hands-on exploration! Animated videos featuring dinosaur experts along with exciting life-like models of embryos and hatchlings, plus colorful illustrations of dinosaur family life enhance the exhibit. Featured in Tiny Titans is the discovery of "Baby Louie," the nearly complete skeleton of a dinosaur embryo with its bones aligned.
"We're proud to support an exhibit of this caliber that is so close to our headquarters," said Shaun Randall, vice president of operations for Dominion Energy's North Carolina gas business. "We know families in our community will enjoy learning about these creatures in such an interactive way."
Tiny Titans is supported through a grant from the Dominion Energy Charitable Foundation and will open to the public on Sunday, January 12. The museum will host a special preview exclusively for Schiele Members on Saturday, January 11 from 3-5 p.m. The Schiele Museum is open 9 a.m.-5 p.m. Mondays through Saturdays and 1-5 p.m. on Sundays. For admission prices and additional information, please visit schielemuseum.org or follow The Schiele Museum on social media.