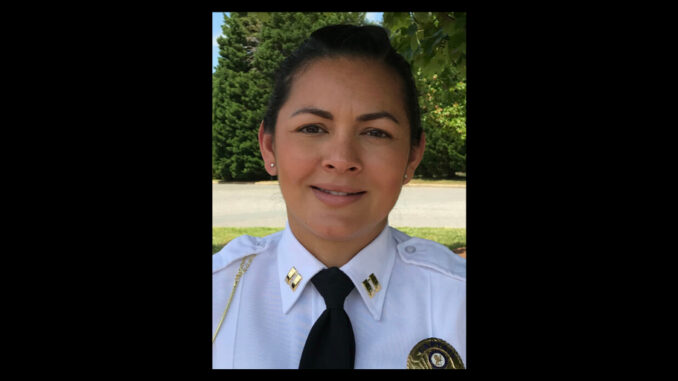 The Gastonia Police Department has named its first Latina captain. Sgt. Nancy Brogdon has been promoted to captain, Police Chief Robert Helton has announced.
"We're happy to be able to share some good news during this time when there are many headlines about the pandemic," Chief Helton said. "Capt. Brogdon brings a lot of experience to her new position, and I'm confident of her continued success. She is also our first Latina captain and brings a unique perspective to the table."
Capt. Brogdon joined the GPD in 2005 and has served in a number of positions including patrol officer, community coordinator, grant manager and coordinator of the Gaston County Gang Initiative, and as a detective in the Financial & Electronic Crimes Unit. Since being promoted to sergeant in 2013 she has served as a patrol sergeant, a community coordinator sergeant, a Criminal Investigations Division sergeant, and as assistant commander of GPD's Hostage Negotiators Team. She oversees the department's LeadsOnline, Victim/Witness and U-VISA programs, and serves as co-commander of the GPD Tactical/Mobile Field Force Team.
Brogdon has served as president of the GPD Sergeants Association and in 2019 she was recognized with an Exceptional Duty Award for the association's support of the Pink Patch Project. Other past awards include recognition for her work with the Mexican Consulate, GPD's recruiting efforts, the Gang of One Gaston Program, the West Gastonia Kids Camp Program, and for her role in Gastonia's first human trafficking case in 2017.
Brogdon holds North Carolina's Advanced Law Enforcement Certificate, a bachelor's degree in Criminal Justice from the University of Illinois, and a master's in Business Administration from Pfeiffer University. She is bilingual with fluency in Spanish and English. Her promotion to captain makes her the third female captain in the police department's history, following an announcement earlier this year of the promotion of Sgt. Laura Biggerstaff to captain. The department's first female captain, Cindy Isenhour, retired from the GPD in 2010 after 25 years of service.