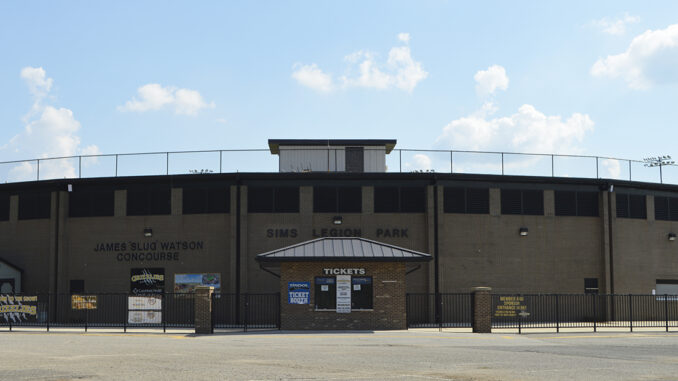 The City of Gastonia and Gaston College have entered into a long-term agreement where the College will lease the use of Sims Legion Park from the City. The ballpark, located at 1201 Dr. MLK, Jr. Way in Gastonia, was originally given to the American Legion Post 23, and is now owned by the City of Gastonia.
Gaston College will use the facility for its Rhinos Baseball team to play games, host baseball camps, and other related events or activities.
"We look forward to a long and successful partnership with the City of Gastonia at Sims Legion Park," said Dr. John Hauser, President of Gaston College. "We're excited to bring the community out to Sims Park and to have them cheering on our Baseball team. We want them to not only enjoy our games, but also enjoy other activities at this great facility. It's an exciting time to be a Rhino!"
The stadium has been home to many baseball teams in the past, including minor league, Coastal Plains League, Highland School of Technology, the American Legion teams and many others.
"This agreement is a win-win for both our City and the college," said City Manager Michael Peoples. "We are pleased to work with the College to help advance its athletics program and we welcome everyone to an improved Sims Legion Park."
The agreement, approved by the Gastonia City Council, will be presented to the Gaston College Board of Trustees for approval on Monday, September 27.
About Sims Legion Stadium
Sims Park was built on land donated by Brown Wilson in memory of Lt. Albert H. Sims, a World War II veteran. Originally given to the American Legion Post 23, it is now owned by the City of Gastonia. The stadium field is dedicated to Buddy Lewis, a local legend as a Post 23 player from the 1930's, major leaguer with the Washington Senators and longtime Post 23 supporter. The facility is used for local high school and collegiate games, as well as other sports and activities.
The facility features a regulation 360 foot, lighted and irrigated professional baseball stadium with covered grandstand seating plus bleacher seating; ticket booth and concourse entrance; press box; dressing facilities, restrooms; concession areas and office space.