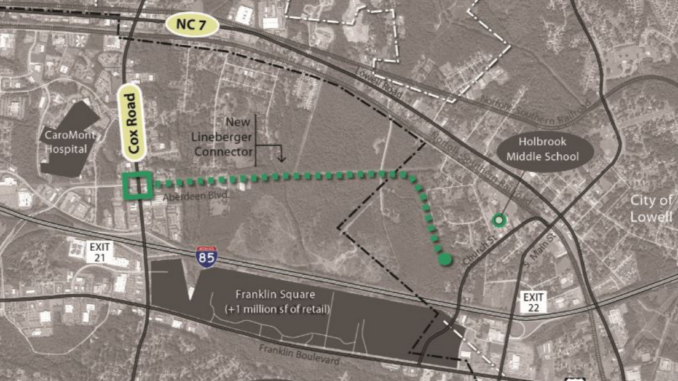 The City of Gastonia, in conjunction with the City of Lowell and Gaston County, have submitted a grant proposal package for $18,192,385 to the U.S. Department of Transportation's Rebuilding American Infrastructure with Sustainability and Equity (RAISE) grant funds, formerly known as BUILD and TIGER.
If awarded, the funds would be used to extend Aberdeen Boulevard from Cox Road to the east, opening up access to approximately 400 acres of infill property with superior access to the I-85 corridor. Major improvements to the intersection of Aberdeen Boulevard and Cox Road will also be included in the project.
At an estimated cost of $31,318,535, City of Gastonia officials believe the Lineberger Connector Project will have a positive impact on transportation in the region and bolster economic development as well. "This is a great opportunity for the region and our cities to support future growth, increase our economy, provide opportunities for upward mobility through the creation of well-paying jobs, and reduce crashes at a heavily-congested intersection," said Gastonia City Manager Michael Peoples. "This project has the potential to create the county's largest collective industrial development tax base."
"This proposal is important to the entire region," said Randi Gates, Principal Transportation Planner. "And we believe these funds are needed more than ever before." Citing the growth in the area and a major commitment by Northpoint Development, Gates says the Lineberger Connector Project is needed to not only connect the two cities but also to bring jobs to an area with a population that is 56% minority and 78% low income, helping to advance equity for all.
Details about the grant submission can be found on the City's website.  The USDOT will announce recipients of the RAISE grants in November of this year.
Key benefits of the Lineberger Connector Project:
Project is completely within an Area of Persistent Poverty.
Project will stimulate approximately $322.5 million in project value for the Greater Gaston area.
More than 10,000 new jobs will be created.
Allows construction of more than 3.5 million square feet of manufacturing, distribution center, industrial, and warehousing facilities.
Supports supply chain for distribution and manufacturing directly to CLT Airport and Intermodal Center via I-85.
Reduction in the total Vehicle Miles Traveled (VMT) by 38,000 miles by attracting local traffic to stay within Gaston County, reducing greenhouse gas emissions.
Project will improve the overall operating efficiency of the Aberdeen Boulevard/Cox Road Intersection and the Cox Road corridor, reducing CO2 emissions.