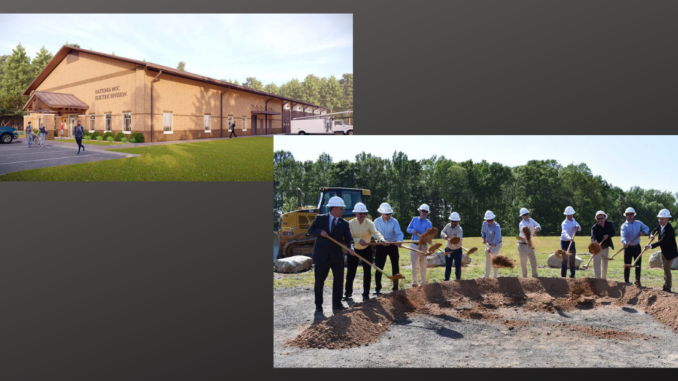 The City of Gastonia's Electric Division held groundbreaking ceremony to mark a $10.2 million renovation project of the Municipal Operations Center, located at 1300 N. Broad St., and construction of a new Electric Division building that will be located across the street at 1315 N. Broad St.
"We are proud to create a facility that will meet the needs of our Electric Division crews and staff as they continue to provide excellent services to our residents and customers," said Mayor Walker E. Reid.
"This projects marks the conclusion of a multi-year planning process to provide right-sized facilities that support critical services to the citizens of Gastonia and the customers of Two Rivers Utilities," said Joe Albright, director of Public Utilities for the City of Gastonia.
Project Details
Project cost: $10.2 million
Contractor: Edifice, LLC
Includes new Electric Division Campus (new location: 1315 N. Broad Street)

20,000 square foot Electric Division building
7,500 square foot covered open-air shed and surface parking

Renovation of existing Municipal Operations Center building, which houses the City's Public Works and Public Utilities departments

Will include a new training center and modernization of existing office space
"The Edifice-ADW team is honored and proud to be the City's Design-Build partner in the next phase of the Municipal Operations Center," said Mike Carlisto, executive vice president for Edifice, LLC. "We are looking forward to building a high-quality project after our team's collaborative design process."
The project will begin May 2022 and is scheduled for completion summer of 2023.