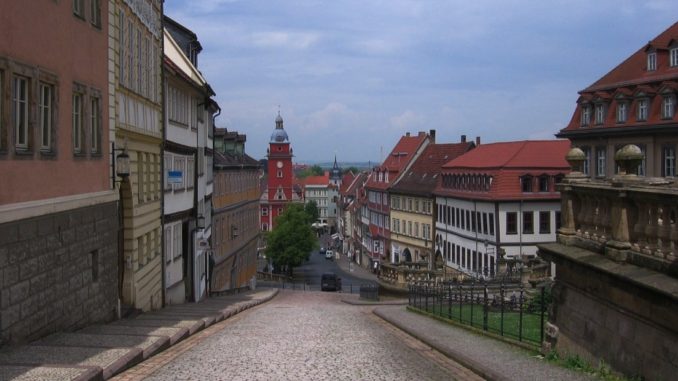 Gotha, Germany is honoring its sister city Gastonia with series of events in early May, celebrating the two cities' 25-year friendship. And May 5 has been designated "Gastonia Day" in the central German city.
A group of Gastonia residents and officials will be on hand, visiting Gotha May 1-7. The Gastonia contingent includes Mayor Walker Reid, Councilman Jim Gallagher, Councilwoman Jennifer Stepp, City Manager Michael Peoples, Director of Community Development and Innovation Vincent Wong, and Sister Cities Director Juliann Lehman. The Schiele Museum and the Gastonia Sister Cities board of directors will also be represented in Gotha.
Gotha and Gastonia paired up in the Sister Cities program in 1993, the first time either city had participated in the international organization. Since 1995, more than 500 local high school students have participated in the Gastonia-Gotha exchange program, giving Gastonia teenagers a chance to live for two weeks with a host family in Gotha. And each year, Gastonia families host teenagers from Gotha, giving the German exchange students a chance to experience life in the United States.
Mayor Reid said Gastonia has benefited in many ways from its quarter-century involvement in the Sister Cities program. "I think it's led to foreign-based companies feeling welcome here," he said. "It has shown our openness, cultural awareness and global understanding." He also noted that the German Language and Culture Foundation of Charlotte has donated more than $90,000 in scholarships since 2011 to help local families pay for students' summer trips to Gotha.
It's not only people who are traveling to Gotha. The Schiele Museum has sent a special exhibit of items, called "Gastonia and the Carolina Piedmont," to be displayed at Gotha's art museum during the summer. Last fall, the Schiele Museum featured a German exhibit called "Gotha and the Thuringian Forest."
Gotha will host Gastonia and its five other sister cities in early May with a celebration it calls Gothardusfest. Mayors and officials from the six cities, located on various continents, will talk about ways to promote partnerships and economic opportunities.
According to Gastonia Sister Cities Director Lehman, the visit to Gotha will "enhance Gastonia's connections in education, economic development and dialogue." She called it a realization of the Sister Cities slogan "Peace through People."