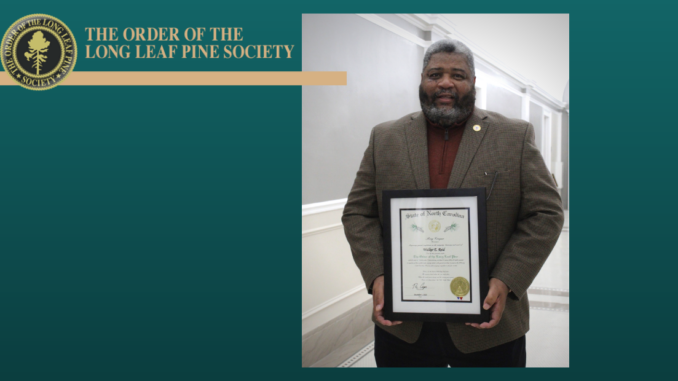 Gastonia Mayor Walker E. Reid, III was named to The Order of the Long Leaf Pine during the city council meeting held on January 5, 2021. The honor is bestowed upon individuals who have a proven record of extraordinary service to the State of North Carolina.
Considered among the highest honors the Governor can confer, the award recognizes citizens for their exemplary service and outstanding contributions to the state. "The recognition North Carolina's highest award for service conveys is well deserved for Mayor Reid's decades-long record as a true public servant and for the many significant contributions he has made throughout those years to our community," said Senator Kathy Harrington, who presented the award via Zoom on behalf of Governor Roy Cooper.
Some of the guidelines by which recipients are selected for this award include contributions to their communities, extra effort in their careers, and many years of service to their organizations. The award originated in the spring of 1963 during the administration of Governor Terry Sanford and it is estimated that more than 15,000 people have received the coveted honor. Recipients receive a certificate and a lapel pin.
"I am highly honored and humbled to receive this recognition," Mayor Reid said . "Words cannot express my gratitude and heartfelt thanks to those who nominated me to join so many notable recipients in the Order of the Long Leaf Pine. I will cherish this moment for the rest of my life."
Mayor Reid was elected in November 2017 to a two-year term and re-elected to a four-year term in November 2019, making him the first African American to be elected first-term as Mayor of the City of Gastonia. Prior to this, he was elected and served for 16 years as a city council member for Ward 4 and served as Mayor Pro-Tem for four of seven terms.
He is a Gastonia native, a 1975 graduate of Hunter Huss High School, and received an Associate of Applied Science degree in Fire Science Technology from Gaston College. He is a graduate of the North Carolina Fire College and the North Carolina Fire Prevention School at the Institute of Government, at UNC Chapel Hill. Reid is also a graduate of the National Fire Academy in Emmitsburg, Maryland and the R. Kennett Scott Fire Prevention School. He retired as an Assistant Fire Marshal Fire & Life Safety Educator after 23 years for the Mecklenburg County Fire Marshal's Office on November 30, 2009 with a Level III State Certification as Fire Inspector and Level III Life Safety Educator. Prior to this, he was a Firefighter for three years and Fire Inspector for six years with the City of Gastonia. He was also a Fire Service Instructor at Gaston College for 15 years. During his long career as a public servant, Mayor Reid has served and continues to serve on numerous boards and commissions with interests ranging from civic, youth, education, to faith-based organizations.