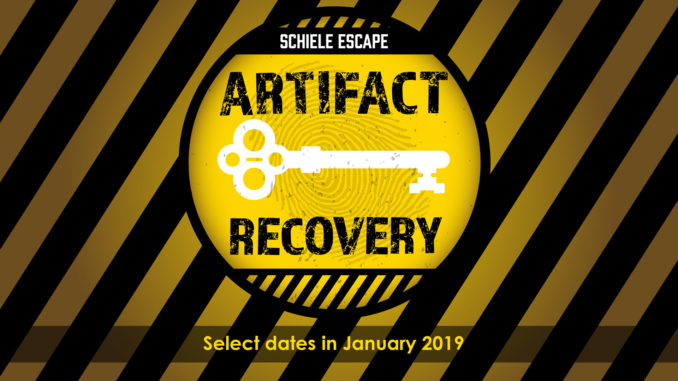 Schiele Escape: Artifact Recovery
The Schiele Museum is on red alert! A precious artifact has disappeared from one of the museum's collections and The Schiele needs your help recovering it. Do you have what it takes to retrieve the artifact before it's too late?
Gather your friends for an immersive experience filled with exciting challenges that are designed to test your creativity and problem-solving skills! In this thrilling adventure, your team will work together to solve a museum mystery by completing interactive tasks all while racing the clock. Discover hidden clues, decipher riddles, and make your escape before time runs out! Are you up for the challenge?
Details:
Join us for an escape game experience like no other. Schiele Escape: Artifact Recovery will be offered in sessions on the following dates:
Friday, January 18, 2019, from 5-9pm
Saturday, January 19, 2019, from 12-9pm
Friday, January 25, 2019, from 5-9pm
Saturday, January 26, 2019, from 12-9pm
Sessions last approximately one hour. Please plan to check-in at the Front Desk 20 minutes prior to your start time. Once your experience begins, you will have 45 minutes to complete the challenges and make your escape. The experience is designed for teams of eight to participate in each session. Unless you book the entire session, you may be paired with other participants (but don't let that prevent you from participating – you just might make a new friend!) Participants must be at least 12 years old, as the challenges can be difficult for children. Adult supervision is required.
Ticket Information:
Or contact us at 704.866.6900 to purchase tickets. Advanced reservations are encouraged. For sessions that occur during regular museum hours, participants are welcome to explore exhibits at no additional cost.
See who else is going on Facebook!
Thank you to our event sponsors: