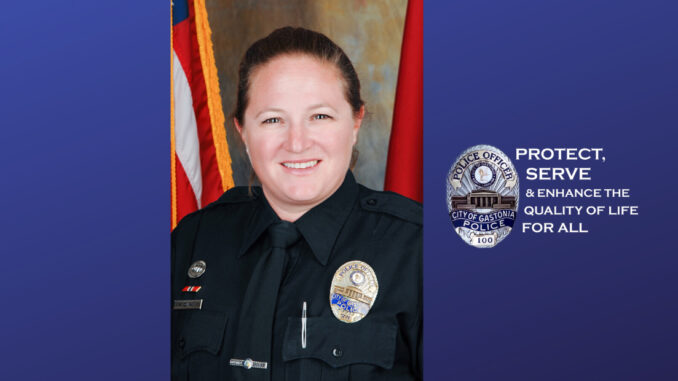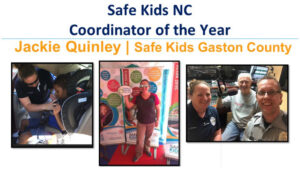 Gastonia Police Officer Jackie Quinley has received a state award for her work with Safe Kids Gaston County. Insurance Commissioner and Safe Kids NC Chair Mike Causey has announced that Quinley is one of the winners for outstanding work to keep kids and families safe in North Carolina.
These award presentations are usually held at the Safe Kids NC Conference but because of the COVID-19 pandemic, this year's conference was cancelled.
"The dedication and service that our Safe Kids North Carolina coordinators, coalitions, and volunteers provide to local families and children is remarkable," Causey said. "It is my honor to congratulate these deserving award winners for their dedication to the Safe Kids North Carolina program and their hard work to keep families and children safe in their communities."
Safe Kids North Carolina Coordinator of the Year
Jackie Quinley goes above and beyond the call of duty as the Safe Kids Gaston County coordinator. Jackie has been a Child Passenger Safety Technician (CPST) for nine years and a CPS instructor for six years. She was nominated for the 2020 National CPS Instructor of the Year.
Jackie makes it a point to be at every car seat check event and every Safe Kids event in Gaston County. She hosts training for local and regional CPS technicians to get their continuing education certifications. Jackie works events and activities out in the community — making sure that Safe Kids Gaston is well known in the community. Jackie is a true leader. She makes every member of the coalition feel important and lets them know that they are truly apart of the team.
Working and communicating with other Safe Kids Coalitions is something Jackie adores. Jackie often says "Work with neighboring Safe Kids coalitions, talk with them, bounce ideas off of each other, and you will discover there is so much to learn from one another. Not only does this make us better, but that knowledge also permeates throughout our communities. Safety does not end at the county line."
Jackie is always working on finding ways to make the Safe Kids Gaston County Coalition better!  Please join us in congratulating this year's Safe Kids NC Coalition Coordinator of the Year — Jackie Quinley.
Other Safe Kids NC Award winners are:
Excellence in Injury Prevention by an Individual – Krystal White, the Coordinator for the Gaston County Health Department;
Outreach Initiative of the Year – The Fit It-Fix It initiative began by Safe Kids Durham County and partners.
Coalition of the Year – Safe Kids Cumberland County.